Happy Halloweenie! I wrote this entire post then realized I didn't mention Halloween at all. I guess since we had our super, duper successful party last Saturday, I kind of assumed Halloween was over. So, here is a picture of a creepy tree, and that's all the Halloween you'll get from me today.
Someday, I will make it to a link-up party on time.
Taylor
had this great topic planned for yesterday, and I was TOTALLY going to join in at the right time, but then sometimes you have to be an adult and go to a conference for work and tune out social media all day. Then, you get home and you have to continue to be an adult, and clean the kitchen, make dinner, pack the lunches, and throw on a load of laundry. So that's that.
I'm going to stop rambling now and get right to the point.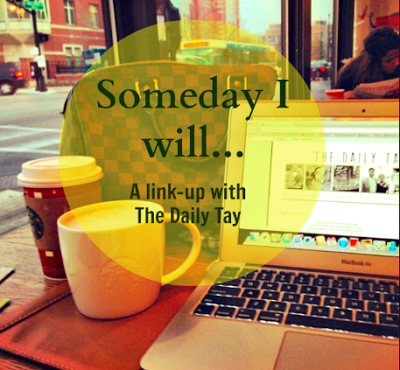 Someday I will...
- Write a novel AND get it published.
- Have 200 followers on GFC or Bloglovin.
- Have children.
Not mine, but isn't he a cutie?
- Make a butterscotch pie from scratch.
- Throw a dinner party using the nice china.
- Have my own cooking show.
- Volunteer on a regular basis.
Not actually volunteering in this picture, but you get what I mean.
- Host SNL.
- Travel to Norway and meet my relatives.
- Read all of the Classics. Okay,
most
of the Classics.
- Take a calligraphy class.
- Own a boutique.
I could sell anything.
With any to-do list, I always like to start with the most manageable item. So, I'm going to see about making that butterscotch pie, because that sounds like a win-win situation to me.
Happy almost-Friday, friends.